Once upon a time when I lived in Florida, I would occasionally take road trips to visit other southeastern states. But for some reason, I never made it to Alabama. So, when the opportunity arose recently for me to take a press trip to Birmingham, Alabama, I was very excited. Through the gracious invitation of the Greater Birmingham Convention & Visitors Bureau, I and five other journalists were given an in-depth tour of this "magic city". Our three-day trip "showered" our senses with southern style cuisine, culture, history and music. Our emotions ran from belly laughs to somber moments that brought tears to our eyes.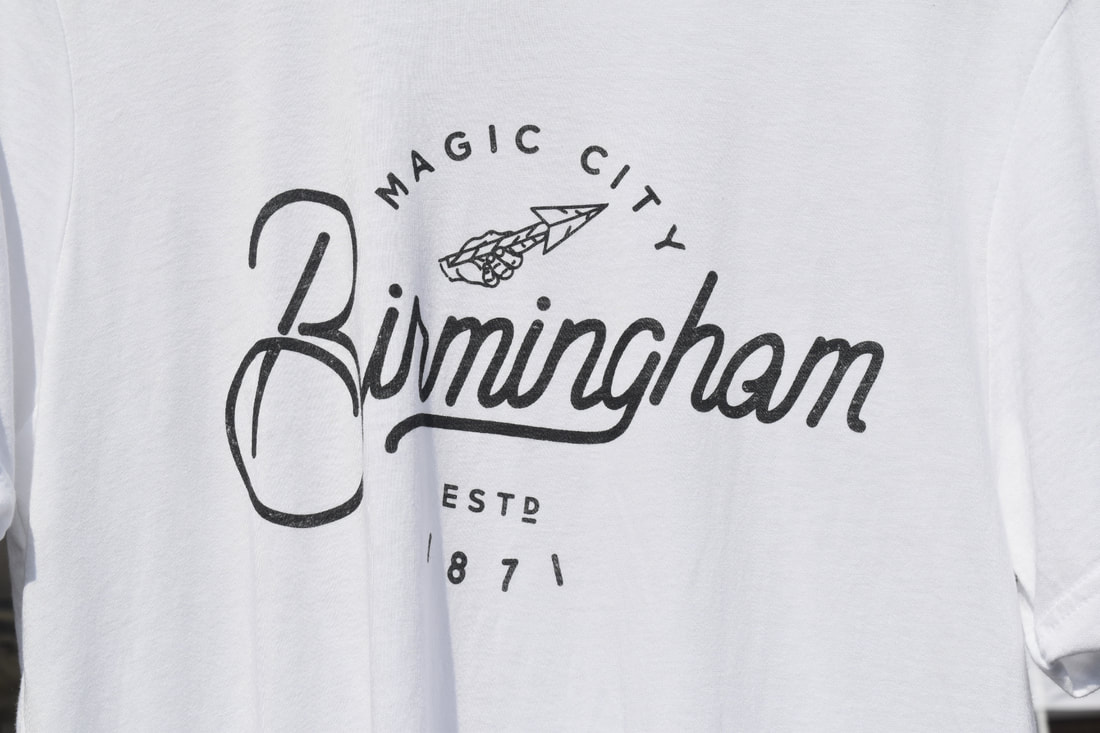 Birmingham was founded in 1871 and is located at the foothills of the Appalachian Mountains. It was once a primary industrial center in the southern United States for mining iron ore, coal and limestone, the three main raw materials used for making steel, which was manufactured there. In addition, rails and railroad cars were also manufactured in Birmingham. Due to its enormous growth from 1881 through 1920, Birmingham was nicknamed the "The Magic City". And indeed, it is!

Birmingham is the largest city in Alabama and today's industry is focused on medical research, trade and finance. It has more green space per capita than any other city in the United States, stunning architecture, historical neighborhoods, over 500 restaurants ranging from world-class cuisine to "down and funky" and a significant place in history with the Civil Rights Movement.

Birmingham is a warm and inviting city. Wherever I went I was always met with gracious southern hospitality. My home for several days was The Tutwiler Hampton Inn in downtown Birmingham. When I arrived at the hotel a wonderful bag of treats was waiting for me, a gift from my hosts. The Tutwiler is a National Historic Landmark adorned with original marble and ornamental ceilings from 1914. The rooms are spacious and the staff is always ready to please. Since I was the first to arrive and had a few hours to myself, I began exploring the city on foot. Birmingham is an interesting mixture of historic buildings and new high rises. There is a lot of renovation and restoration taking place. On my walk, I saw some impressive historical buildings such as the Masonic Temple Building built in 1922 and designed by two black architects, one of whom was the first black graduate from M.I.T in 1892. Just across the street from the Tutwiler is the Linn-Henley Library built in 1927, once the central library for the city before a new library was built across the road. Today, the Linn-Henley Library contains all historical research sources, rare books, maps and is a center for genealogical research. Walking tours are available for Birmingham's historic buildings.


Having worked up an appetite exploring a portion of the downtown area, I walked into a restaurant called "brick & tin". Mauricio Papapietro, the owner, opened this restaurant in 2010 and uses only local and sustainable ingredients. The décor is quite interesting. The space was originally an old shoe store. Ceilings were opened up to expose more brick and church pews were brought in as part of the seating along one wall. The Tuscan Panini that I ordered was my first "taste" of Birmingham and I knew from the first bite that I was going to be experiencing an incredible food fest on this trip.

When it comes to eating, the residents of Birmingham take it very seriously. Whether it's Michelin star restaurants or casual local eateries and cafes, Birmingham has it all. And trust me, you will never go hungry; there is something for everyone.

Our first night in Birmingham we were treated to a sumptuous dinner at The Highlands Bar and Grill. Owned by chef Frank Stitt, a nine-time James Beard Foundation finalist, this French-inspired southern style restaurant opened its doors in 1982. Chef Stitt is an Alabama native who not only has an award-winning restaurant, he has trained and inspired many chefs that have gone on to open their own restaurants in the Birmingham area. As with most of the restaurants in Birmingham, Chef Stitt uses locally sourced and sustainable ingredients. In addition to selecting our meals from the menu, Chef Stitt presented us with many appetizers and side dishes to taste. The Stone Ground Baked Grits were drool worthy! It was a heavenly introduction to the cuisine that Birmingham has to offer. And we were beginning to understand why our hosts told us to pack "loose" clothing. For the next several days, we were treated to extra side dishes and samples at every meal!

Our first morning in Birmingham, we had breakfast at Trattoria Centrale. In addition to the traditional eggs and grits, they offer a breakfast pasta! It is quite an imaginative breakfast menu. The latte is probably the best that I've ever had!

The Bogue's Restaurant was another breakfast stop for us. They opened their doors in 1938 and it's a popular spot for locals. As the description says "it is stick to your ribs down-home cooking with old fashioned Southern hospitality".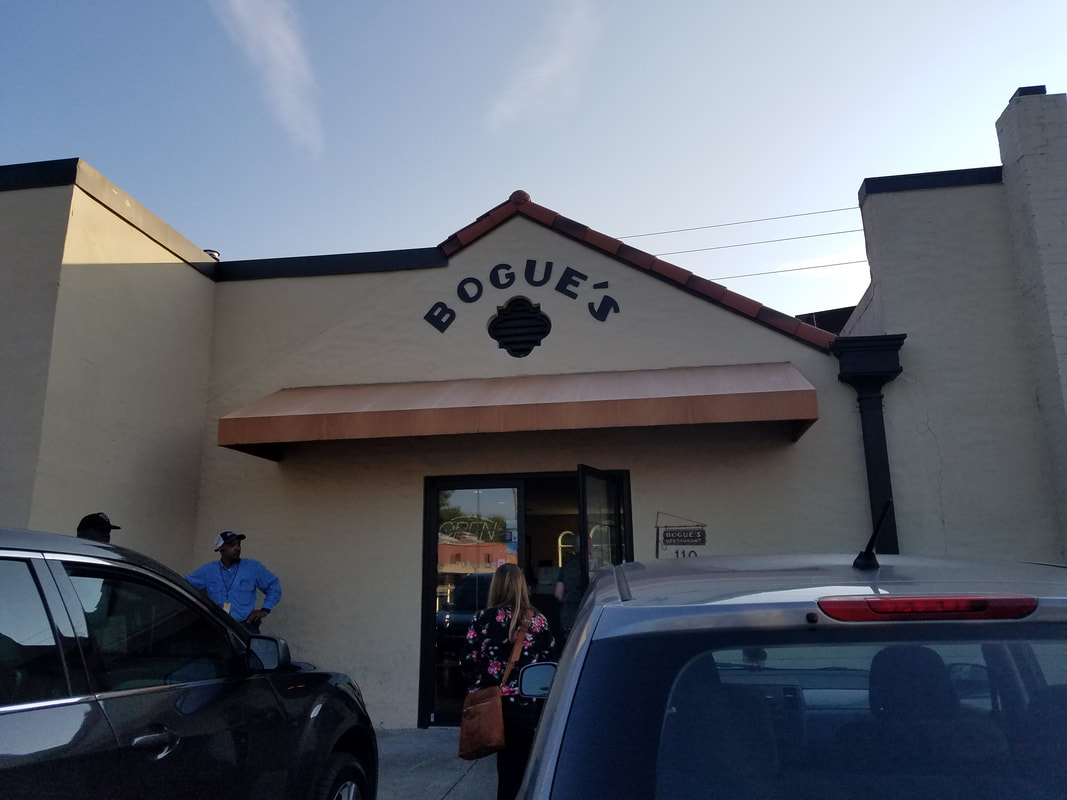 Many Greeks immigrated to Alabama in the early 1900s influencing a blend of southern and Greek-style cooking. Greeks own many of the soul food, seafood and barbecue restaurants in Birmingham. We had a chance to sample this fare at Johnny's Restaurant, Niki's West and The Bright Star. Johnny's and Niki's West are owned by the same family, both offering Greek influence on southern favorites. Niki's West is a large cafeteria-style restaurant offering 70 items at the steam table. I loved the collard greens! The Bright Star opened its doors in 1907 and is a 330-seat restaurant located in Bessemer, AL. The menu offers traditional southern fare as well as Greek style. The fried green tomatoes with gulf shrimp and cornmeal-fried oysters were amazing! As with all the restaurants we dined at, the food was fresh and service was A-One.

One night we had dinner at Saw's Soul Kitchen, a small down home space serving traditional southern dishes. I think we sampled most of the menu! All good! I couldn't believe that I had room to taste their Banana Pudding, but was so happy I did!

And if breakfast, lunch and dinner weren't enough to sustain us, we were taken to the Pizitz Food Hall for dessert and cocktails one afternoon. Located in the old Pizitz department store, it is now a food court like no other. This is a collection of chef-inspired cuisine featuring a variety of concepts from restaurateurs. Our focus was the Waffle Works and cocktails. The menu speaks for itself. Think soul food and waffles…

In addition to Waffle Works, there are presently 16 other food stalls representing cuisine from around the globe. In the middle of the court is a large bar called The Louis Bar, serving craft cocktails, local beers and wine. This stop was quite a treat!

While in Birmingham we toured some well-known attractions, as well as a few unusual and out of the way places where tourists don't usually go. Here are a few of the popular sites we visited.

The Market at Pepper Place is Alabama's largest weekly outdoor farmer's market that opens every Saturday from 7 am to noon, rain or shine. It is also the largest outdoor market that I have ever seen! One can expect to see anywhere from 103 to 120 tents, but the area can accommodate up to 129 tents. Farmers of locally grown produce, flowers, food tables, hand crafts, clothing and jewelry can be found here…all Alabama made goods only! There are chef demonstrations and live music. Local restaurants buy their produce here. In fact, we happened to see Chef Stitt here! Pepper Place is open from mid-April through mid-December. Not to be missed!

The Peanut Place founded in 1907, is located on a quaint cobblestone street. Aromas of roasting peanuts were floating out the door of this 1885 building when we arrived. There are two antique roasters that still work, one of which is 110 years old! All the peanuts are sourced from Virginia and I can attest that these roasted peanuts are yummy!

If you like books, then Reed Books and Museum of Fond Memories is a must see. I love to wander through bookstores and this one truly tops the charts. Jim Reed, author and philosopher, has been in business for 37 years. He has collected and cataloged over 50,000 books, magazines, newspapers and posters, with an additional 250,000 items that are not cataloged! If you can't find what you're looking for, Jim will gladly help. I could have easily spent many hours there getting lost in such an eclectic inventory.

The Vulcan Park and Museum is home to the world's largest cast iron statue made with 100,000 pounds of Alabama iron and is 56 feet tall. Designed and sculpted by Giuseppe Moretti for the 1904 World's Fair, Vulcan's permanent home is atop Red Mountain overlooking the city of Birmingham. Vulcan is the god of fire and metals and symbolizes the city's iron origins. Vulcan is quite impressive and the museum depicts a fascinating history of how it came to be.

After dinner one evening we participated in a Birmingham Pedal Tour, a "pedal-powered bike party". It was lots of fun and the laughter non-stop. This is a great way to tour the city, although our objective was to tour a few brewing companies. We worked off our dinner and enjoyed a little live music and some interesting beers. I highly recommend it!

You don't have to be a baseball fan to enjoy the Negro Southern League Museum. The museum tells the history of African-American baseball in America through the eyes of Birmingham. The museum has an incredible collection dating back to the 1800s that include, uniforms, bats, trophies and a hologram of Satchel Paige. I loved the chandelier in the main entrance that is made out of old baseball bats! As tired as we were at this "end of the day" visit, we all re-energized and enjoyed the magic of the museum.

The most sobering, powerful and important part of the trip from my perspective was the day we spent taking the Civil Rights Tour. If you take a trip to Birmingham, visiting the Civil Rights District is a must. Our guide for the day was Barry McNealy who through his voice, we were able to relive it all. Our tour began with the 16th Street Baptist Church where on September 15th, 1963 a bomb exploded killing four African-American schoolgirls.

We then toured the Kelly Ingram Park, a four-acre park that is adjacent to the 16th Street Baptist Church. As we walked through the park, Barry gave us a detailed presentation of the Civil Rights movement that was also depicted through sculptures and statues throughout the park. There are statues of "heroes" such as MLK and Reverend Fred Shuttlesworth. The Four Spirits sculpture honors the four girls that died in the 16th Street Baptist Church bombing.

We visited the Historic Bethel Baptist Church, where Pastor Fred Shuttlesworth served from 1953 to 1961. And it was he who first reached out to Martin Luther King, Jr to please come to Birmingham. The church was bombed three times over a four year period, but miraculously no lives were lost and the building still stands. It is a National Historic Landmark as well as a National Register of Historic Places. While at the church we had the honor of meeting Pastor Thomas Wilder who has been leading the congregation since 1988. We also met Reggie Johnson, who grew up in the community and had many stories to share with us.


Our Civil Rights tour ended with the Birmingham Civil Rights Institute. Again, Barry guided us through an impressive tour of what it was like living a black or white life in Alabama from the late 1800s to the present. The museum covers the Civil Rights Movement and the violence that took place. The Procession Gallery depicts the "walk to freedom", using life-size figures representing all ages and races. This is another "must see" stop.


We made a few stops on our trip that one might not find in a tour book, but are part of the soul of Birmingham.

Joe Minter's African Village in America is an amazing collection of "outside" folk art. These sculpture gardens adorn the entire yard of Joe's home and beyond. His art is mostly made with welded metal, hand-painted biblical signage and other knickknacks. About 15 years ago God spoke to Joe and asked him to create a garden of memory. And he has been doing so ever since. Some of his works include a tribute to the children that died at Sandy Hook and a room size re-creation of the jail cell that held MLK. One never knows if Joe will come out to talk to visitors, but he and his wife greeted us and Joe gave us a tour. It was quite memorable.

Our last evening in Birmingham was highlighted with a trip to Gip's Place Juke Joint. Located in Bessemer, about 20 miles outside Birmingham, is one of the last juke joints in the country. Henry "Gip" Gipson who is in his late 90's, opens the door to his backyard every Saturday evening to listen and dance to some of the best blues musicians you'll ever hear. And if you're lucky, you might just get to hear Gip play as well. The crowd is mostly made up of locals and if you're from out of town you might have a hard time finding this hidden gem that's tucked away out of sight with no signs. Although we didn't stay to hear Gip play, we had the opportunity for a meet and greet. He is definitely one of a kind! This was a great way to end our stay in Birmingham.

I've added a few snippets of video in addition to the slideshow.

I flew back to New York the next day taking with me an incredible memory of southern hospitality, amazing food, an important slice of history, great shops, good music and new friends! Birmingham…I'll be back!

Cheers!
Penina