A few weeks ago I wrote about the wine estate, Domaine Bousquet, located high up in the Gualtallary Valley of Tupungato, Argentina. These are noteworthy wines which incorporate French and Argentine techniques in the wine production. If you haven't read the story yet, please do so at:
Day 622
http://thewineknitter.com/1/post/2018/01/day-622-bonjour-argentina.html
This will give you the history of the estate, a brief description of the climate and terroir and essentially bring you up to speed for the following story.
Last week I had the pleasure of sitting down with Anne Bousquet for a delightful lunch and tasting of her estate's wines. Let me start by saying that Anne is warm, down to earth and very passionate about her wines. Her enthusiasm and sense of adventure transcended itself around the table and throughout the tasting.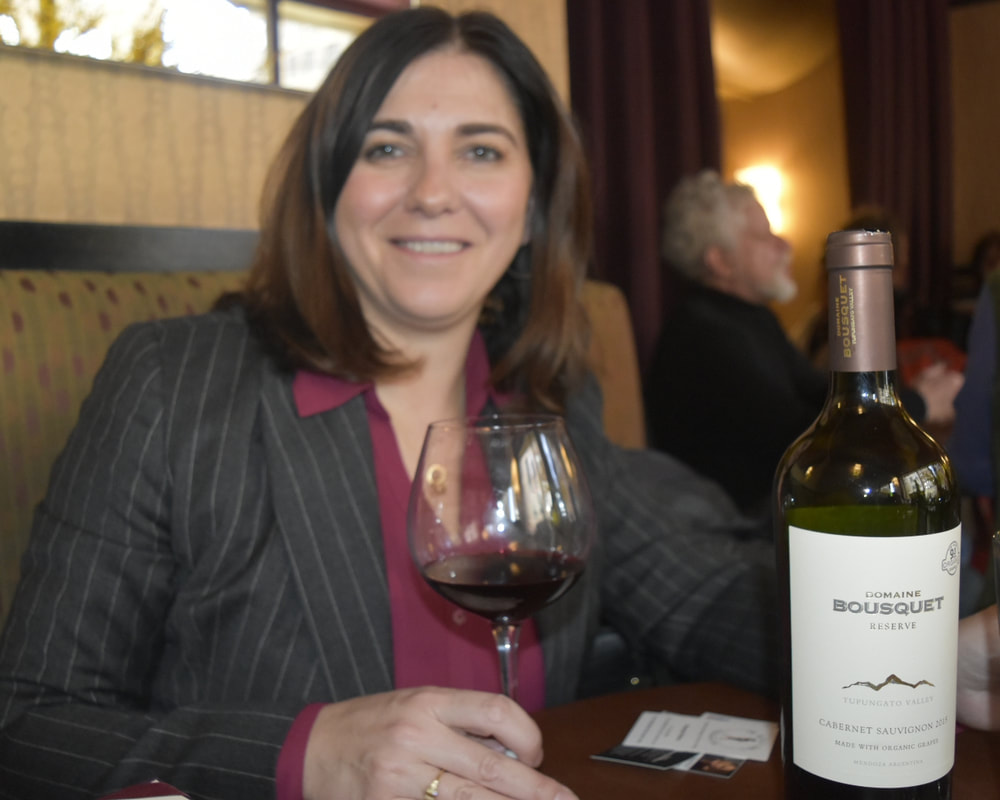 Although she comes from several generations of winemakers, Anne's career path originally led her in another direction. While in 1997 her father Jean was busy buying land in Gualtallary Valley for the purpose of producing organic wines and at the same time divesting all of his vineyards in Southwest France, Anne and her husband Labid al Ameri were living in Boston, pursuing their own dreams, Anne as an economist and Labid in finance. Both these skills would prove invaluable when they became the owners of Domaine Bousquet in 2011.


All of Domaine Bousquet wines are made from 100% organic fruit and alway have been since Jean planted the first vines in 2000. Gualtallary has up to 7 different types of soil, but Domaine Bousquet is the only estate with sand as its primary soil. In fact, Jean bought the land for this very reason. To quote Anne, "Sandy soil makes elegant wines and that characteristic was very important to him as a Frenchman."

So, as I said in my last story, "with the benefits of cool climate, sandy soil, controlled water irrigation and healthy organic grapes, it certainly sets the stage for quality wines." All the grapes at Domaine Bousquet are harvested manually and special attention is paid to preserving the purity of the organic fruit.

We tasted five wines from the estate.

Sparkling Rosé Brut N/V using the Charmat method (produced in tank). Grapes are 75% Pinot Noir and 25% Chardonnay. The color is salmon with inviting aromas of fresh red fruit, strawberry and peach that carry over to the palate. Fine bubbles, soft and foamy on the palate with a hint of citrus on the finish make this an easy wine to drink. Serve as an aperitif or with fish, light appetizers and simple pasta.
Alcohol: 12%
SRP: $13


Chardonnay 2017 is made with 100% Chardonnay and is un-oaked. This is an entry-level wine and part of the Premium Varietals series. The color is soft yellow with lovely aromas of citrus, fresh fruit and floral notes. The palate is softer in flavor than the nose has to offer, but the wine still delivers hints of tropical and stone fruit with good acidity. Perfect as an aperitif or with light fare.
Alcohol: 13%
SRP: $13

Gaia Red Blend 2015 is made with 50% Malbec, 45% Syrah and 5% Cabernet Sauvignon. The color is dark purple with heady aromas of anise, violet and dark berries. The palate offers silky tannins with dark fruit, dark cherry, hints of spice and white pepper on a long finish. This is a wine that will complement just about any dish from appetizers to dessert!
Alcohol: 14.5%
SRP: $20

Reserve Malbec 2016 is made with 85% Malbec, 5% Cabernet Sauvignon, 5% Merlot and 5% Syrah. The grapes are harvested from the estate's best plots with low yields. Wine is aged in French oak barrels for 10 months. The color borders on deep red and plum with bold aromas of dark berries, spice and black plums. The palate offers soft fruit with layers of blackberry, raspberry, dark cherry and hints of chocolate and pepper. Beautifully balanced with silky tannins and a long finish. The aging potential is 5 to 6 years. Serve with meat, stews, cheese and dessert!
Alcohol: 14%
SRP: $18

Reserve Cabernet Sauvignon 2015 is made with 85% Cabernet Sauvignon and 15% Malbec. The grapes are harvested from the estate's best plots with low yields. Wine is aged in French oak barrels for 10 months. The color is dark red bordering on purple with a mix of dark berry, spice and herbal aromas. The palate offers an abundance of juicy dark fruit, spice and hint of earth and cocoa on the finish. Full bodied with soft tannins. This wine will pair well with hearty entrees and aged cheese. Aging potential is 5 to 6 years.
Alcohol: 14.4%
SRP: $18

Anne and Labid are not only proponents of organic sustainability, but they have poured their hearts and souls into economic sustainability for the Tupungato community, helping to transform the economy. In addition to joining an alliance of local wineries to fund construction for a new road, Anne and Labid have also undertaken a project to train locals in wine growing and office work. Many of the locals were then hired and are now an integral part of Domaine Bousquet. Read more at
www.domainebousquet.com
Anne and Labid and their 10-year-old daughter now live in Miami and travel to Tupungato for one week out of every month to walk the vineyards and spend time at the winery. Jean Bousquet is happily retired and content tending to his 99 acres in Gualtallary Valley and producing wine for himself!
With two decades in business, a brand presence in over 50 countries and a quality to price ratio that is hard to beat, Anne summed it up in one sentence, "We just want to make high-quality wines that others can afford". And they are doing just that!
Cheers!
Penina
To leave a comment or if you have an inquiry, please contact me at
wineknittercomments@gmail.com