It was a busy day yesterday. I made a trip into New York City for appointments and had a lunch date with an old friend, which was the better half of the day.
We went to this fabulous little French cafe, that made me feel as though I was in Paris again. The food was delicious and the wine was a perfect accompaniment to the meal.
The wine….

My "Day 11" post, back in early June, described a wine that my dining companion had recommended. He shared his experience and tasting notes with me, which I posted. I had as yet never tried the wine…until yesterday. It was a 2013 Weinzierl Gruner Veltliner, an Austrian wine.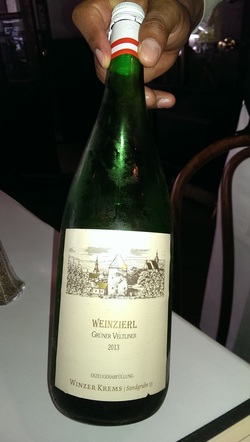 My friend was right on the money with his tasting notes. It was wonderful. So I am going to repost the tasting notes here. . " Gruner Veltliner is the signature grape of Austria. It is light and refreshing with lemon, grapefruit and a hint of white pepper. Serve it chilled, but not cold. "
www.winzerkrems.at
Cheers!
Penina