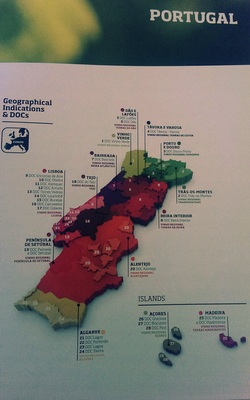 Portugal is located in the Southwest corner of Europe in the Iberian Peninsula. It is the westernmost country of Europe and surrounded by Spain to the North and East and the Atlantic Ocean to the South and West.

What makes Portugal so unusual with regards to wine is that it boasts a remarkable number of grape varieties that cannot be found anywhere else in the world. In fact, many of the Portuguese grape varieties are restricted to the national territory. There are 250 indigenous grape varieties officially registered. The Alvarinho, Baga and Touriga Nacional grapes are probably the most widely known by name.

Portugal is divided into fourteen Regional Wine areas. Each region has a unique geography and climate, influencing the production of the grapes. I had an opportunity to taste some very interesting wines from these regions at the Wines of Portugal event at the City Winery in New York. Most of the wines I tasted were blended, using several national grape varieties, as is their tradition to combine grape varieties rather than use 100% grape. In fact, some winemakers will blend more than twenty varieties to attain the perfect balance. However, there are a few regions that boast a single variety grape, such as Bairrada, using the Baga grape (red) and Moncao/Melgaco in the Vinho Verde region, using the Alvarinho grape (white).


The most "popular" of the white grapes are Alvarinho, Arinto/Pederna, Encruzado and Fernao Pires/Maria Gomes. The popular red grapes are Baga, Casteao, Tinta Roriz, Touriga Franca, Touriga Nacional and Trincadeira/Tinta Amarela.

As I traversed from table to table and region to region I was introduced to a variety of blends. There were 30 tables, with many bottles to sample at each table. Most of the whites were refreshing, a few sparkling wines stood out, as well as some hearty reds and port.

My objective with my post today is to touch upon a few of the regions and wineries and to discuss the rest in future posts.


Adega de Redondo is one of the largest wine producers in Portugal and is located in the Alentejo wine region which covers a third of Portugal in the southern half. The climate is hot and quite challenging to grow white grapes. I met with Alexandre de Cunha who guided me through a tasting of their wines. I took note of the AR Reserva 2011 made with Touriga Nacional, Syrah and Alicante Bouschet. The color was deep red with intense aromas of dark fruit and cocoa that carried over to the palate. Tannins were strong and he suggested decanting it for an hour prior to serving. The Real Lavrador Branco 2014 was a white wine made with Roupeiro and Rabo de Ovelha grapes. It was dry and zesty but pleasant with citrus and fruit on the palate.

The next table offered wines from the region of Porto and Douro. The winery, Quinta Do Portal, is based in the Douro Valley of northern Portugal. Douro was the first wine region to be designated and regulated in 1754. It is also a UNESCO World Heritage site. Douro, known for supplying the world with its production of port is now being regarded for its unfortified wines. Quinta Do Portal has a lovely sparkling wine. It was very appealing, dry and fruity. The Touriga Nacional (100%) 2009 was dark ruby with heavenly aromas of dark fruit. Raspberry and dark currant dominated the palate. Strong tannins made for a chewy finish. The 10-year-old Tawny Port was cherry red in color and was a nice combination of sweet and nuttiness with a long finish.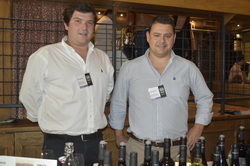 Quinta Da Foz also located in Porto and Douro was established in 1876 and one of the oldest producers in the Douro. I asked Carlos Queiros to select one wine for me to taste. He poured a Red Reserva 2011, a red blend of very old vineyards. Vinified in granite tanks, it is then aged for 18 months in French oak barrels. Although the tannins were "thick", the fruit and smokiness came through. It is unfortunate that I didn't have time to wait for it to open up.


And speaking of time, I must end this post with the promise that I will continue tomorrow covering more regions and vineyards.

Saúde!
Penina