If you've been following my blog, you know by now that I'm basically a purist when it comes to drinking vodka. Yes, I have strayed now and then to taste some very interesting cocktails. And, last night I made another exception.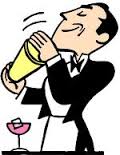 My friend was in "mixology" mode and decided to make me a lemon vodka martini. He had prepared simple syrup a few days prior, which impressed me. Actually, it's not a bad idea to keep a container of simple syrup in the refrigerator to have on hand for cocktails. I make a variation of it for my hummingbirds.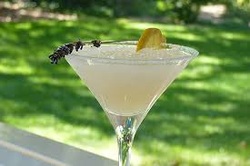 Although he wouldn't tell me all the ingredients, I do know that he used Belvedere Vodka, lemons, simple syrup and a secret ingredient that my palate couldn't discern. The garnish was a sprig of lavender. And…it was delicious! It was a refreshing summer cocktail and a perfect evening to sit outside and enjoy the sunset…. no humidity and a beautiful breeze. Happy!



I have lots to do today, but I'm looking forward to an early evening swim, good wine and food.

Enjoy this beautiful day! Happy Thursday!

Cheers!
Penina